GEORG MENSHEN GmbH & Co. KG is one of the world's leading manufacturers of plastic lids and packaging systems –  a world champion at capping and enclosing.
When you visit this family-operated business in Finnentrop in the Sauerland region of Germany, you sense a professional approach with sights set on the future all around. There's a kind of sporting ambition and team spirit combined with a seemingly insatiable appetite for success. Here they set high standards for themselves in the quality of their products and their own flexibility. "The future offers many possibilities" their homepage states and continues: "If you want to set long-term standards, you have to be one step ahead." They say they want to pursue this goal consistently in order to guarantee maximum versatility and progress to their customers.
The consistent application of this philosophy is immediately apparent in the company's achievements since it's found in 1970. There are now 14 subsidiaries in 11 countries that generate sales of more than 200 million Euros worldwide. Well over 1,000 employees are currently working to serve more than 1,300 active customers. Each year around 10 billion components are produced with the use of a total of 350 injection-molding machines! On the basis of the number of customers and the production volume alone, Menshen is in the top ranks in terms of injection-molded caps and closures. But a customer is of course primarily interested the quality of performance and customer support, meaning the levels of precision, reliability, and service, to which this long-established company is seemingly fully attuned. Whether required to provide individual solutions or simply high-quality standard caps and closures, the maxims at Menshen are "cooperation without compromise" and "quality without limitations".
Customer orientation in thought and action
Thus, until a few years ago, the molds were still produced by the company itself at the headquarters in Finnentrop. Now they are sourced worldwide, and a mold maintenance department has been set up here instead for each mold that leaves an injection-molding machine once the job is complete. In some cases this requires a very high maintenance outlay over a period of two to three days. At other times, the standard hoisting, cleaning, and lubricating suffice. The heart of the production site is the molding department of course, which currently has 144 injection-molding machines with clamping forces of 40 to 500 tons. For the most part thermoplastic standard materials such as PP and PE are processed as well as TPE for sealing and EVOH as an oxygen-impermeable barrier coating.
The unusual scene here is dominated by apron, hairnet, and beard protection in strict accordance with the HACCP Hygiene Standard, and those entering the Production Department must first disinfect their hands. Since 2013 Menshen has been certified by BRC-IOP, as is required by about 20 % of customers. "For all other customers it's the icing on the cake," says Production Head Sebastian Pütter.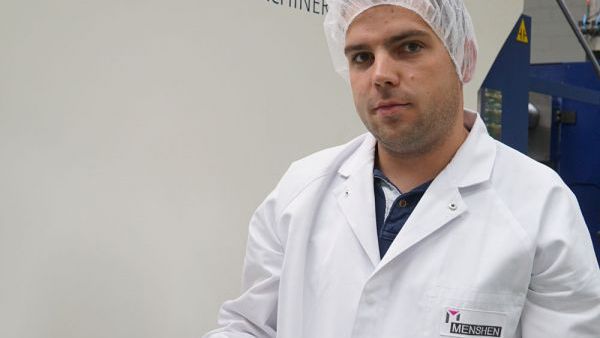 Mr. Sebastian Pütter, Head of Production at Menshen's site in Finnentrop
"The price-performance ratio offered is very competitive"
Flexibility enables the company to have its own "little empire", with production facilities in Spain, Russia and Hungary, the United States and Mexico, and two plants in China. And naturally use is made of this international diversity in technology, know-how, and capacities in order to fully utilize all plants through reciprocal contracts. The site in Spain, for instance, is the competence center for in-house developments in the coffee capsules sector, while Germany focuses on shrink-wrap parts to be incorporated into bags for example, standard seals on refill packs for liquid soap or large special seals on bags of fruit puree that cannot be swallowed. Applying the strictest safety requirements and implementing complex production jobs is considered standard practice in Finnentrop. This is hardly surprising considering the 350 machines of various makes and power classes across all production sites offer the injection-molding specialists countless possibilities. Thus every need of the customer can be met often right down to the nearest one hundredth of a millimeter.
"THE ZERES DELIVERS"
Interview with Mr. Sebastian Pütter, Head of Production at Menshen's site in Finnentrop
Mr. Pütter, how do you think you are equipped for future competition in Germany? What do your customers particularly value?
"What the customers definitely value is the quality. Even if in the worst of cases this means the quality in processing complaints. In this too we always get special praise because of how meticulously we fill out the reports and then also actually and demonstrably implement the measures. We hear this time and again during visits to customers, which mostly happen at the end of the year. Also the audits that we recently passed with flying colors speak to our high standard of quality. Another point certainly is that Menshen is open to new technologies and is continuously evolving, in other words that we are open to new markets, particularly in the foodstuffs sector."
How are you set up in terms of machines?
"Generally speaking we use several manufacturers here on the premises. Although we run rapid cycle times with high cavities, basically we have standard injection-molding machines."
And a Zhafir Zeres machine…
"Exactly. For the most part we work with machines that have a combination of servo-hydraulic and servo-electric drives as used in the Zhafir Zeres. We need the hydraulics because we rely on core pulls for our products. The price-performance ratio offered is very competitive; it was imperative that we test this for compliance using molds of average complexity and average cycle times in order not to potentially miss a good alternative for the future."
What are the results of the test bench?
"The machine has been received remarkably well, which I wasn't certain I could count on confronting an employee with the sixth or seventh new set of controls. The Zeres is constructed in a very user-friendly way, which I think is good. In the initial phases there were normal hiccups, but since then the machine has really been running very, very well. We also built a very complex mold onto it, with core pulls and capping, in other words everything that we can offer. And the Zeres delivers."
What application runs on the Zeres? 
"It's a snap cover type closure with a double tamper-evident seal. This means that we have a tamper-evident ring as a safeguard between seal and bottle but also a tamper-evident tab above in the area of the snap cover, which is then locked again as well. Precision is required for this. In addition it must be capped and unscrewed. And platens are released by core pulls. In our business this is already a more sophisticated mold. But if the machine is to be put to the test, it has to handle a sophisticated mold."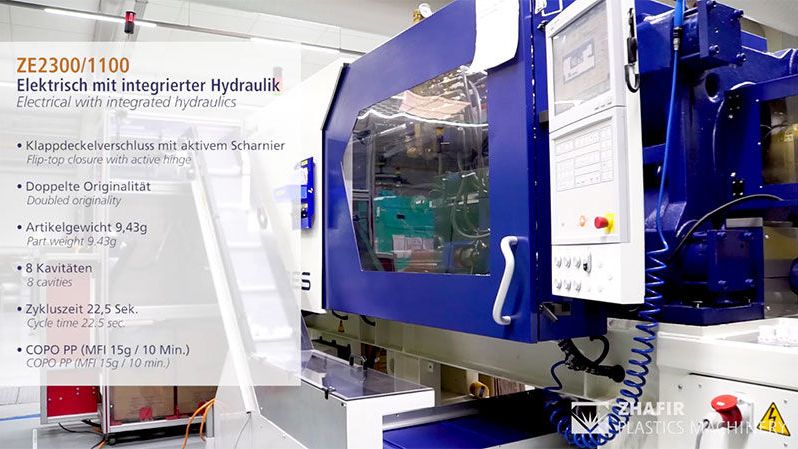 CLOSURE APPLICATION ON A ZERES WITH 230 TONS CLAMPING FORCE:
Double tamper-evident closure, which means it cannot be manipulated or opened without detection
For cleansing agents and disinfectants
Snap cover type closure with active hinge
Weight of article 9.43 g
Number of cavities: 8
Cycle time: 22.5 sec.
Material: COPO PP (MFI 15 g/10 min.)
Machine: ZE2300/1100
Supplement to the interview
Of course we were also interested in the criteria that finally tipped the scales in favor of buying the Zhafir Zeres for Menshen. Our interview partner was not yet with the company at that time and was therefore unable to answer the question. Mario Rathgeb, ATR Sales Partner of HTIG, remembers: "One, perhaps two years ago we had an appointment with Mr. Kaufmann, the Head of Operations, for a meeting at Menshen and we spoke about our new partner Haitian International Germany. Originally there was neither a project nor any interest. After a concrete offer was made, this quickly changed. The decisive point was a combination of pricing and technology: an electric machine of 230 tons for a little more than 100,000 Euros."