WHAT A GREAT DAY! GRAND OPENING IN GERMANY
A familiar celebration at Haitian International Germany together with 680 guests from 15 nations.
On 06.06.2016 – the number 6 means luck – the official opening ceremony took place along with Mr. Zhang Jianming, CEO of Haitian International and Mr. Zhang Jianfeng, Deputy CEO of Haitian International. The Mayor of Ebermannsdorf, Josef Gilch, brought a special gift: The new access road to the company is now officially registered as "Haitian street".
This event marks an important milestone for the team in Germany. Mr. Xiang Linfa, General Manager of Haitian International Germany, explains: "We want to be more responsive to the needs of our customers and meet their requirements from the relevant industries as best as possible. This has always been our company philosophy. With the second plant we have given ourselves more space to e.g. test complete production cells also with larger series. "
Assembling of Mars and Jupiter machines
After around 9 months of construction – the official ground-breaking ceremony was on 01.09.2015 – the 8,000 square meter new building (7,500 sqm manufacturing area) was opened for the numerous guests out of the plastics industry and regional politics. Effective immediately, servo-hydraulic machines of the Mars II and Jupiter II Series will be assembled in this hall for the European market, customized for customers and tested through its paces. The production range covers clamping forces from 600 to 30,000 kN. With growing focus to the energy-saving two-platen Jupiter II Series (entire range 4,500-88,000 kN). At the Grand Opening visitors could already get an idea of the performance of the two-platen technology, since several Jupiter machines with up to 21,000 kN demonstrated their dynamics and precision live in action.
In the first hall, built in 2009, the electrical Zhafir machines Venus II Series and Zeres Series will continue to be assembled with clamping forces from 400 to 6,500 kN. The application center in the Zhafir hall offers mold tests and trainings for German and European customers.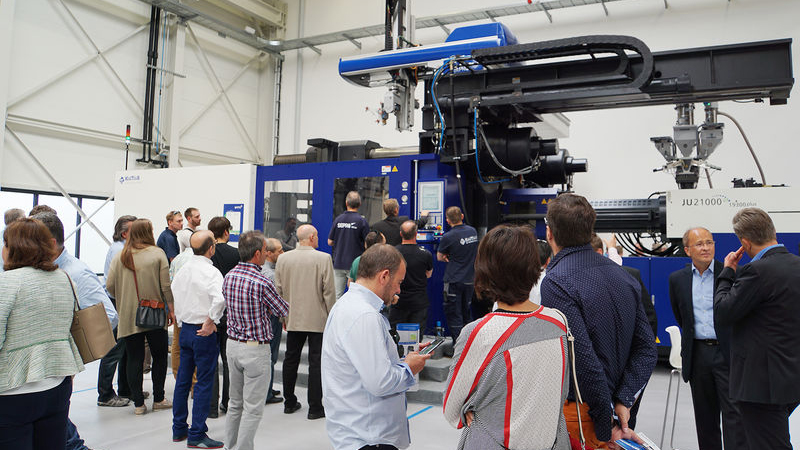 A Haitian Jupiter II plus Series with 21,000 kN produced a pipe fitting. The machine left the plant following the Grand Opening to its new owner, the BT Bautechnik Impex GmbH & Co.KG in Aichach.
More capacity in service & support
With the commissioning of the 2nd factory, Haitian International Germany has a significantly extended production capacity. This will increase the availability of the machines "to go" as well as the speed of delivery time of spare parts.
More service strength in the fields of pre- and after-sales was the second important aspect in the investment decision of the Haitian Group for the site in Germany. "The new hall and the resulting space gives us many more opportunities to offer mold testing on production cells with larger machines," says Philippe Porret, Deputy Manager of Haitian International Germany. "We are simultaneous growing in all areas. In assembling and system development, in sales and service structures, and in all levels of support. "