"CHALLENGES 4.0"
The Fakuma 2015 Show seems to be in the thrall of "Industry 4.0". In a conversation with Prof. Helmar Franz, Board Member of Haitian International, we discovered what position the company takes on this subject and what challenges await in the next few years.
Professor Franz, to what extent is the topic of Industry 4.0 a concern for the biggest manufacturer of standard injection molding machines?
"Naturally we discuss both in-house and with our customers the sensible use of concepts and modules with regard to "Industry 4.0". But with any development what is crucial for us is always the benefit for the entrepreneur. Both for our customers and for us. And in this respect, to be frank, there are still problems to be solved."
Can you give us an example?
"Let's just take the issue of data security: Every supplier, for example for the automotive industry, signs non-disclosure agreements and is thus responsible for data security. But how is a company supposed to do that when even entire countries and states can't manage to guarantee data security? Not to mention that as a processor you also have to provide an "intelligent factory". So far we still don't know of any customer who is doing this consistently in terms of the goals of "Industry 4.0". Quite the contrary. A customer survey in Germany has shown that for the short and medium term the subject comes up in very few companies because of its complexity. And I assume of course that in other parts of the world it is considered even less frequently."
So is "Industry 4.0" of no interest to Haitian International?
"The movement towards the 4th Industrial Revolution is certainly important – assuming that the 3rd Industrial Revolution has also been safely completed. Of course, this depends on many factors: qualification, economic environment, prosperity, societal demands, and many more. Since many customers operate business premises in multiple countries, in our view every industrial company should consider what measures are sensible and economically justifiable in each respective country. We ourselves have been doing it at Haitian International for some time now, and very intensively also."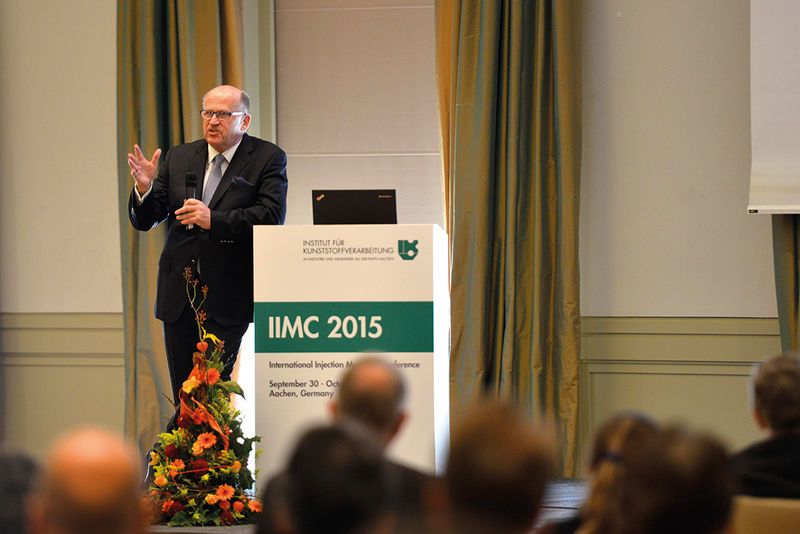 Professor Helmar Franz gave a lecture at the "International Injection Moulding Conference 2015" IKV Aachen on the future challenges for the industry (Picture source: IKV/Fröls)
What is the current situation, what conclusions have you made?
"Primarily, we see ourselves as machine builders. What we claim to do is to construct highly versatile injection-molding machines using innovative "Technology to the Point". Designed for mass production, for diverse categories of standard plastic parts. These machines have to become even more versatile, efficient, and uncomplicated. They also have to be able to be networked through standardized interfaces, and in this regard, for us as machine builders there are still some challenges. Once again, however: Whether, when, and how our machines are to be integrated into an "intelligent" environment depends on the benefit that accrues from it."
What technical developments in machines should we expect?
"Let's take for example the subject of fully electrical machines, which we see as the new standard in the small and medium clamping force categories. This too seems so far to be self-contradictory, because up until now fully electrical has always been commonly associated with high-tech and expensive. It will be our challenge as experts in standard machines to "demystify" this article of faith and to offer our customers fully electrical solutions at the prices that are standard for hydraulic ones. This means, among other things, a rethinking, for example, defining what technical demands are to be made of electrical machines. Only then do we have a good chance of replacing hydraulic machines in the future by offering attractive prices for electrical machines. And that is our goal."
The issue of oil, as a medium in an injection-molding would then be a thing of the past…
"Correct. Not to mention further advantages, such as less noise during production or savings on energy-intensive cooling systems. Zhafir is firmly intent on revolutionizing the small and medium-size machine market, in addition to high-tech machines, through simplified and cheaper fully electrical machines. With the new Zhafir plant in Chunxiao we have already laid the ideal foundation for this."
What then would this revolutionary machine look like?
"In order to be able to substitute electrical machines for standard hydraulic machines, a lot of homework has to be done. As already mentioned, the price has to be right so that the issue of hydraulic or electrical no longer needs to be raised, at least not because of economic considerations. To achieve this, the manufacturing costs of such a machine must fall significantly. Thus currently we are hotly debating as to what equipment such a machine must have. "Reduce to the max" is the slogan here, just like it used to be with the Smart car. This then permits new approaches to design. For example, our opinion is that it is not absolutely necessary for such a "simple" machine for the mass market to have parallel functions. However, considerable cost savings can also be achieved by lighter component materials and optimized drives."
In addition to electrical machines for small and medium clamping force categories, Haitian International is also placing increasing emphasis on two-platen machines in the big clamping force classes. Indeed, this is what the new "Tong Tu Lu II" plant was built for, bigger than any previous Haitian plant…
"Correct. Our servo-hydraulic machines – particularly in the large clamping force categories – will continue to be an important component of our product strategy. The Jupiter Series with two-platen technology is constantly being optimized and adapted to the various market requirements. This is also how the Jupiter II plus was developed for the European market. With an additional drive we can offer more power for faster clamping movement and higher clamping pressures on demand. This was solved very efficiently. That's Technology to the Point!"
Professor Franz, we thank you for speaking with us.